Josephat Torner Scholarship Program
After Josephat passed away, the Josephat Torner Foundation Europe decided to continu our fight for people with albinism and the best way to honour Josephat Torner at this moment is by realising the Josephat Torner Scholarship Project.
JT scholarship is provided for young people with albinism who are coming from poor families who do not have means of continuing the education of their children.
Besides the children and youngsters who we support now, there are many young people with albinism who are seeking educational support. If you would like to sponsor a child or know anyone who might be interested in supporting a child, please let us know.  If you would like to make contributions to the Josephat Torner Scholarship Program you can donate on this website.
We also find it very important to keep raising awareness on albinism, eradicating stigma and discrimination. Raising awareness to create a safe and all-inclusive society is our main mission. We have reached out to so many people and made quite a number of achievements through our community sensitization because of the uniqueness of those projects. We combine our mission with the interest of local people so that everyone will be involved and accountable. This All-on-board strategy nurtures the sense of project owner ship. This way everyone has tasks and responsibility to improve their communities. Another very unique aspect of our activities is Strong Affirmative Action by breaking the taboos and triggering the mind-set change. More to read about our achievements in our "Past Activities".
Thank you so much for your help!  United We Stand Strong!!
Na het overlijden van Josephat Torner, wil de Josephat Torner Foundation Europe de strijd van Josephat natuurlijk voortzetten. We hebben besloten dat de beste manier om Josephat te eren op dit moment is via het Josephat Torner Studiebeurzen Fonds.
Het JT  studiebeurzenfonds is bedoeld om kinderen en jongeren met albinisme te helpen met de schoolkosten. De kinderen zijn afkomstig uit families die niet zelf in alle onderwijskosten kunnen voorzien. Wij willen de studenten ondersteunen, zodat ze met een diploma van school gaan en een eerlijke kans krijgen in de maatschappij.
Behalve de kinderen en jongeren die JTFE op dit moment ondersteunt, zijn er nog veel meer kinderen en jongeren met albinisme die onze hulp nodig hebben om naar school te kunnen. Als je een kind wilt steunen of iemand kent die geïnteresseerd is het ondersteunen van een kind, laat het ons alsjeblieft weten. Als je een financiële bijdrage wil geven aan het Josephat Torner Studiebeurzen Fonds kun je doneren via deze website.
Daarnaast blijven we ons inzetten voor een betere wereld voor mensen met albinisme, door bewustwording te blijven creëren en discriminatie en stigmatisering tegen te gaan.
Veel dank voor uw belangstelling! Samen zijn we sterk!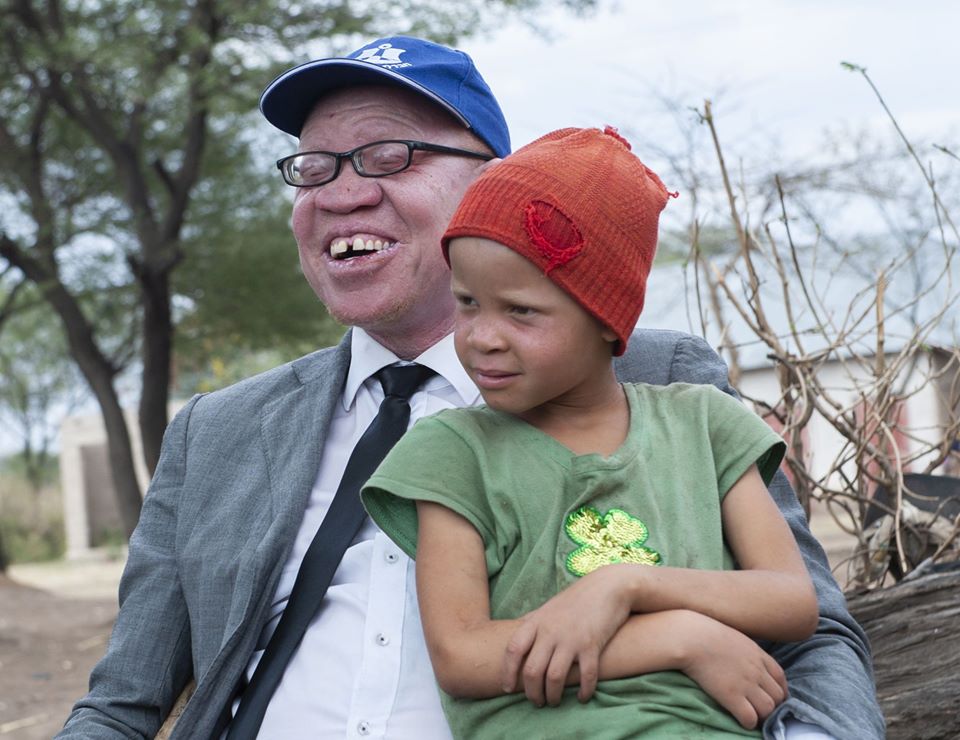 It is with our deepest sorrow that we inform you of the passing of our Josephat. The evening of the 12th of april, at around 7pm Tanzania time, he was hit by a vehicle while crossing a busy street in Mwanza. Our team is in shock and disbelief.You cannot imagine how many people he has inspired with his words, laughter, brave acts, kindness, and deep sense of empathy. He was a passionate advocate of human rights dedicating his whole life to the marginalized. His tireless efforts to defend the rights of people with albinism and his charismatic leadership have encouraged us so much to stand up to get our message across.
Josephat has also taught us to Forgive others – one of the difficult things to do. He often said: Without forgiving what they have done to you, you will never make progress – we will cherish this wisdom in continuing our work.
The albinism community has lost a great leader, a brother, a friend, and someone who has changed many of our lives. But we will carry on with our work to achieve an all-inclusive society: Josephat's dream – a dream he has fought for so bravely.
Josephat, we wish you never would have left us this early.
It will never be the same here without you.
May you rest in peace.
====
Op 12 april bereikte ons het verdrietige bericht dat Josephat is omgekomen bij een verkeersongeval. We zijn nog steeds in shock. Josephat, onze grote inspiratiebron, onze vriend, is er plotseling niet meer. Hij was een inspiratiebron voor velen, vooral voor kinderen en jongeren met albinisme. Ook mensenrechtenactivisten in andere Afrikaanse landen werden door hem geïnspireerd.
Hij was als een spin in het web. Hij wist precies wat er overal speelde en werd steeds invloedrijker in eigen land. Hij zette zijn leven op het spel voor waar hij in geloofde: het creëren van een gelijkwaardige wereld voor mensen met albinisme.
Lieve Josephat, bedankt voor alles. Bedankt voor wie je was. Bedankt voor het aanraken van onze levens.
De Josephat Torner Foundation Europe zal blijven bestaan. Het is een eer om jouw naam te mogen dragen en verschil te mogen maken in deze wereld.
Rust zacht vriend.
Vision : JTFE envisions an all-inclusive society where people with albinism in sub-Saharan African countries can enjoy their lives with dignity as full citizens of the society.
Mission : JTFE strives for eradicating stigma, discrimination, and myth against people with albinism by raising awareness and building capacities of people with albinism.